3 Steps to a Pain-Free Better You
SCHEDULE INITIAL CONSULTATION
Start now. Give us a call at 505-327-5086 to schedule your initial consultation.
ASSESS & TREAT WITH A PLAN
We'll assess your symptoms, then create a plan to help guide you back to optimum health.
Feel more active and youthful with us as your partner in health.
We offer gentle solutions that leave patients pain-free with non-invasive techniques like Drop Table, Erchonia, PulStar and more.
Welcome to Life Quality Chiropractic in Farmington, NM
Our chiropractic clinic's mission is to help you feel better naturally without drugs or surgery. If you suffer from headaches, neck pain, or lower back pain, we can help guide you back to optimum health naturally, without the use of addictive drugs or invasive surgery. Once we have your immediate pain managed, we guide you through implementing the top 5 essentials for reclaiming your health, including your central nervous system, overall nutrition, exercise, mindset, and minimizing toxicity. You'll look and feel better!
Schedule a visit today and meet with the Dr. Jade, our chiropractor. We are building our chiropractic family, and we look forward to treating you like family. We provide our high-quality, exceptional chiropractic care to the surrounding 4-corners communities of Farmington, Durango, Aztec, Bloomfield and Kirtland.
Dr. Jennifer "Jade" Beisker, D.C.
Dr. Jade is the premier chiropractor provider of choice and has made it her mission to introduce Farmington and surrounding communities to the latest developments and advancements in Chiropractic healthcare. She believes you can feel better naturally without drugs or surgery. Dr. Jade is an advocate for gentle, precise treatment and treats everyone like family. She looks forward to meeting you and making you a part of her chiropractic family.
Tuesday
8:00 AM - 5:00 PM
Wednesday
8:00 AM - 5:00 PM
Thursday
9:00 AM - 6:00 PM
Our Chiropractic Clinic in Farmington
Our chiropractic clinic is ready to help you on your way to health. We are Life Quality Chiropractic, formerly Smith Chiropractic. We wish Dr. Smith well in his retirement.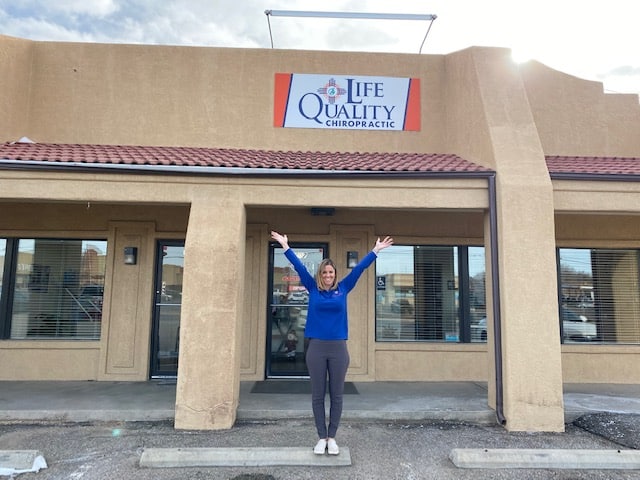 Our chiropractic clinic office was designed with our patients in mind. We feature the latest technology and a safe, comfortable environment for everyone in our family to enjoy.